We are preparing for the 2023 World Youth Day pilgrimage tp Lisbon.
The next World Youth Day will take place in Lisbon, Portugal on August 1-6, 2023. The Diocese of Savannah is planning a 10-day pilgrimage spanning from July 28-August 7 to Fatima and Lisbon for this celebration of and for youth, as well as a pre-trip 4-day add-on to Lourdes, Burgos and Santiago de Compostela, and a post-trip 2-day add-on to Avila, Madrid, and Toledo.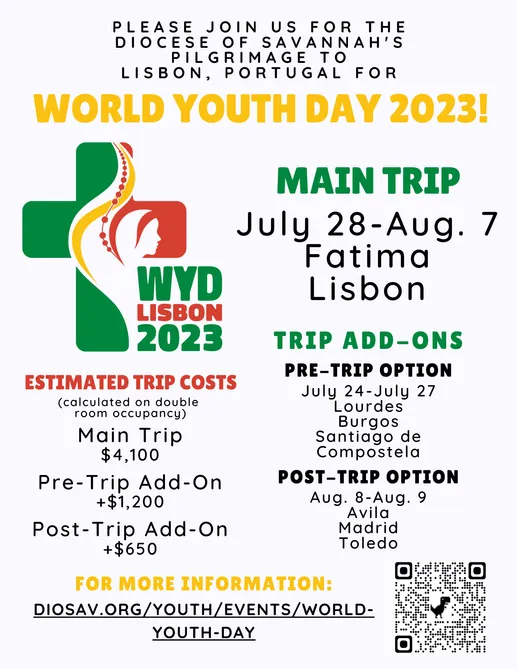 World Youth Day is an unbelievable week-long spiritual journey where pilgrims from all over the world unite to share their faith. The week includes prayer, song, concerts, drama, sharing, liturgy, catechesis, and an unforgettable vigil and closing Mass with the Holy Father Francis. In 1984, Pope John Paul II invited young people from all over the world to participate in a pilgrimage at the very first World Youth Day. Since then they have been held in Argentina ('87), Spain ('89), Poland ('91), US ('93), Philippines ('95), France ('97), Italy ('00), Canada ('02), Germany ('05), and Australia ('08), Madrid ('11), Brazil ('13), Poland ('16), Panama ('19).

The theme for WYD 2023 is "Mary arose and went with haste" (Luke 1:39). What a beautiful verse to guide us in planning for such an event! Mary had the most intimate encounter with the Lord and ran with excitement and wonder to Elizabeth's house to see the ways that the Lord provided for her cousin, too. World Youth Day offers a similar opportunity for young people around the world to run with haste and excitement to a meeting place to share and celebrate their personal encounters with the Lord.
EARLY REGISTRATION IS OPEN NOW. Pilgrims will be able to be added through the end of this year, however, to guarantee that pilgrims receive the cost estimate that we have given, they will need to register by the end of June. Registration can be found here (Reservations: Customer detail (groupxpress.com). A $300 deposit is due at registration and you can select a payment schedule that fits your groups needs best.
Click the image above to register now!